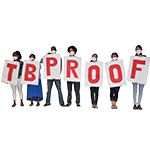 AGENTS FOR CHANGE
TB Proof was founded in 2012 by South African Health Care Workers and Students after multiple personal experiences with occupational tuberculosis, particularly multidrug-resistant TB.
Since TB Proof was founded in 2012 :
To "TB PROOF" our colleagues, students and patients by creating greater awareness of and protection against occupational, nosocomial (healthcare facility-based) and community-based TB transmission through education and activism.
To destigmatize all forms of TB – draw particular attention to drug resistant TB (DR TB) and occupational TB by collecting and disclosing proof of an alarming rise in cases. Workers living with HIV are at particularly high risk and need special consideration and support.
To mobilize national and global resources through patient advocacy to help address shortcomings in prevention and treatment strategies, both for health care workers and more importantly, the population we serve.
Donor contributions make it possible for TB Proof to develop its initiatives and teaching about stigma in Universities and Communities. To continue our work and to increase our capacity, resource mobilization is vital.
Please help us to keep these activities alive.
Thank you for your support towards ending TB together!
You can donate by contacting Dr Dalene Von Delft (Director at TB Proof) for details
email address: daleneduples@gmail.com